Net debt down
Household net debt has declined from its peak.
'Decline' is not a word often heard used about debt in Australia! Even government piling it on these days.
Yet some interesting points have been raised by the
Reserve Bank of Australia
in the last week or so.
We already know from the monthly Chart Packs that household debt as a percentage of household disposable income has now increased to above where it was in 2007.
However, the RBA points out that deposits have also increased markedly, to the extent that net debt has actually decreased to around 100 per cent of household income, some way below its peak.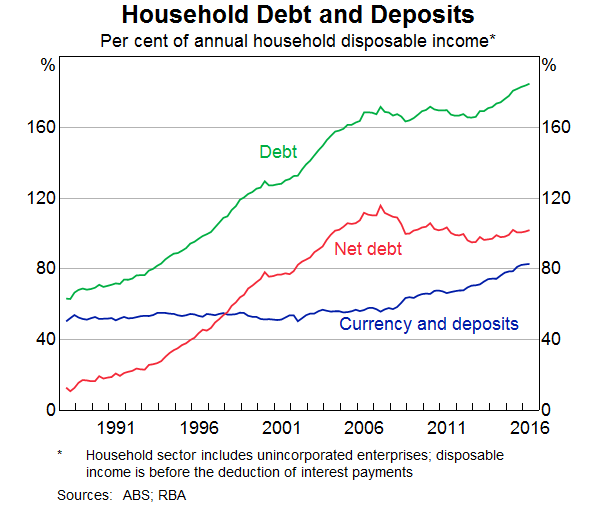 Record buffers...in aggregate
Meanwhile aggregate mortgage buffers in offset and redraw facilities have increased to a record 17 per cent of all outstanding loans.
That's the equivalent of well over 2.5 years of scheduled repayments at current interest rates, which is frankly huge.
The RBA's research shows that mortgagees across all income brackets have forged ahead on repayments.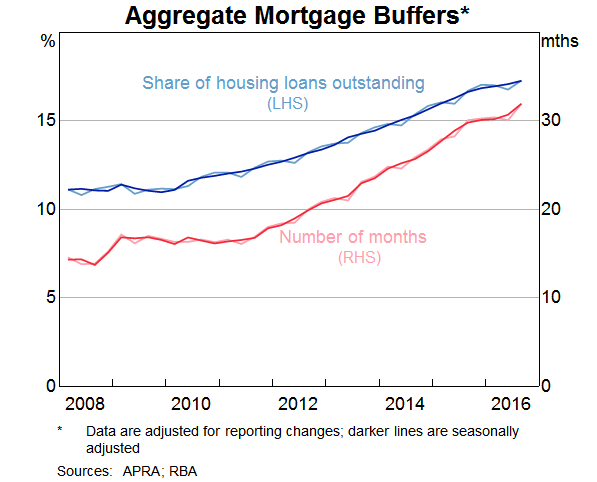 Overall, the net position looks healthier than the headline figures suggest, and shows that Aussies are not using their homes as ATMs as we were in previous cycles (cf. equity maate).
Unfortunately, there is a snag.
And that's that the folks with the big deposits are generally not the same people as those carrying the debt.
For that reason, although most households are managing their debt reasonably well at the moment, there is an inherent risk that if interest rates or unemployment rise, then the stability of the system may see its foundations shaken.
The figures show that homeowners should hope for interest rates to stay low for as long as possible.
If they do, the chart above shows that mortgage buffers will soon rise to the equivalent of 3 years of repayments - something that has never been seen before in Australia.