Inner Sydney tightens
One of the reasons I've been relatively bullish overall on the prospects for capital city property markets over the longer term has been a question mark over how successfully the market would be able to cater for Australia's growing population in the popular inner suburbs where people want and need to live.
Over the last few years it had for a while seemed that building new high-density apartments and selling them to investors in mainland China could be the panacea, a win-win solution whereby Australia gains a new export industry, which in turn adds to the dwelling stock.
Now it seems that things are not so clear, not least because so many of the new dwellings are so small, so poorly constructed, and often utterly inappropriate to house more than two people. There has certainly been a boom in shoeboxes apartments, homes not so much.
It's also less than clear how much of the new stock is making it to the rental market.
The day before yesterday it
was reported that
Melbourne's vacancy rates had fallen to the lowest level since 2010, an incredible statistic given the volumes of apartment construction seen through this cycle to date.
And now the REINSW vacancy rate survey confirms that inner Sydney's vacancy rate has recorded back-to-back readings of just 1.3 per cent, a dynamic I had already hinted at
here
.
Of course monthly survey readings can oscillate a little, so below I've plotted New South Wales vacancy rates on a 3mMA basis.
While vacancy rates have trended up a little in outer Sydney, in inner Sydney rental stock seems to be becoming remarkably tight.
The REINSW
noted that
the inner Sydney "market is tight, and is expected to remain tight for quite some time".
APRA's regulatory intervention has successfully skimmed many of the higher LVR and higher risk investors out of the market, and as such rental stock in some areas appears to have completely dried up.
Although not yet reflected in the 3mMA figures the March 2016 readings for Wollongong (now just 1 per cent, down rapidly from 3.3 per cent) and the remainder of the Illawarra have tightened quite dramatically since the middle of last year.
The detailed regional figures also show tighter vacancy results for a number of other locations, including Coffs Harbour (1.5 per cent).
Outlook brightening
A fortnight is a long time for news about the economy these days, but the Reserve Bank's
Minutes
from its April 5 Monetary Policy Meeting are worth a read. In particular, this line caught my eye:
"Mining investment had fallen to around 4 per cent of nominal GDP from a peak of 8 per cent in 2012."
This may appear to be quick throwaway line, but this is a huge point of note for Australia. Here's what mining investment looked like in the run up to the peak.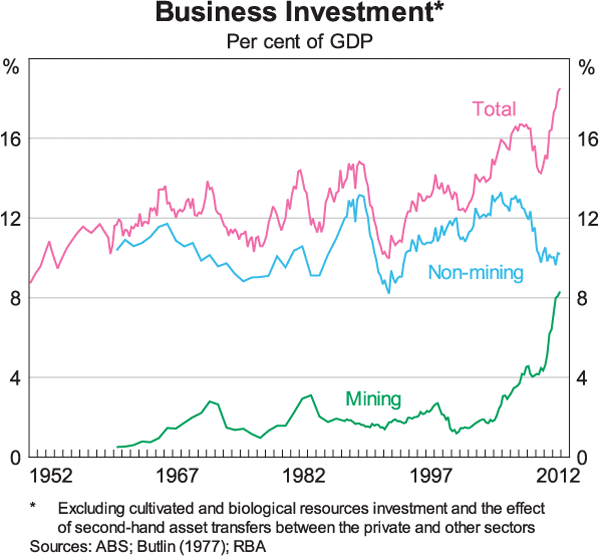 There has been an enormous 64.1 per cent rebound in the iron ore price since December 11 in response to Chinese stimulus and some other commodity prices have shown overdue signs of life, but overall it is not expected that this will make any material change to the outlook for mining investment plans.
In truth, it's actually quite hard to say what happens next to mining investment. In today's litigious and safety-conscious environment, cost overruns often have a way of racking up in resources construction projects, and on occasions spectacularly (cf. Gorgon LNG).

And maybe Adani's Carmichael coal project will finally get up, which could arrest the decline.
Just as likely, resources investment could overshoot on the downside.
Either way, if investment had already fallen from 8 per cent to 4 per cent of nominal GDP by December 2015, then almost by definition the mining cliff is well over half way cooked, and is probably more like three quarters of the way done.
There has also been a great swathe of positive news since the Reserve Bank last met, which in aggregate has negated the outside chance of an interest rate cut in May, including:
-unemployment surprised by producing a
stunning result
to decline to a 2.5 year low of 5.7 per cent
-Roy Morgan Consumer Confidence rebounding by +3.8 points to sit above its long run average at 115.8
-NAB's Business Survey showing conditions at an
8 year high
-an enormous rally in the iron price, which has culminated in a spectacular rebound of +64.1 per cent since December 11 according to Scuttman of Business Insider, with yet
more gains
in the post today
-if share prices are your preferred bellwether, leveraged iron ore producer Fortescue Metals Group (FMG) has seen its share price rip from a 52-week low of $1.44 to $3.32 with short dhrift, yesterday hitting its highest price since 5 November 2014
-Fitch's
Dinkum Index
reporting that Australian mortgage arrears are tracking at near record lows in declining by 20bp year-on-year to just 0.95 per cent.
Given the scale of the contraction in investment experienced in mining regions, Fitch's results in particular are remarkable. Although some self-employed borrowers have 30+ day mortgage arrears, the reported annualised loss rate in Q4 2015 of just 0.02 per cent is about as close to zip as it is possible to get.
On this evidence it is little wonder that cash rate futures markets are beginning to price out further interest rate cuts in this cycle, which represents a marked shift in sentiment over the last two months.
The one fly in the ointment could be the strength of the Aussie dollar which has gone on a tear to its highest level since May 2015 at 78.19 US cents.
The RBA Minutes noted that continued low inflation would afford the scope to lower interest rates if appropriate, so in that regard it will be very interesting to see what news the March 2016 inflation figures bring exactly one week from today.
Overall, though, it's been a very positive couple of weeks of news, as Australia moves yet another year further away from the financial crisis.