Foreclosure
In my home city of Sheffield, about
10 years ago now
, property developers
Urban Splash
won a contract to redevelop the notorious Park Hill site of 955 flats in Sheffield, and paid a tiny, nominal sum to take over the dilapidated development.
A decade on the project remains an unfinished and a no doubt costly exercise.
Such regeneration projects are not for the faint of heart or for those lacking deep pockets, but from a historical perspective it is a welcome relief to see that this small but significant part of Sheffield's history will not be lost forever.
Over in the US in another city which has been hit by the demise of a key industry, Detroit, it was reported last week that more than 6000 foreclosed properties were sold for a little over a nominal sum of US$500 each to be torn down and redeveloped.
CNBC
reports
:
"It looks like someone is willing to invest in Detroit—though who that person is remains a mystery. An auction in Motor City of more than 6,000 foreclosed properties found an unidentified bidder who has offered $3.2 million for the buy, Bloomberg Businessweek reports.
The offer meets the minimum bid allowed for the sale, which stands at $500 per property. Of course, the actual cost of taking over these properties is likely to far exceed the initial $3.2 million, as almost half of the properties need to be torn down in the next six months per conditions of the auction. The bundle also includes around 2,000 empty lots and some 1,000 homes that are deemed habitable."
Interesting stuff.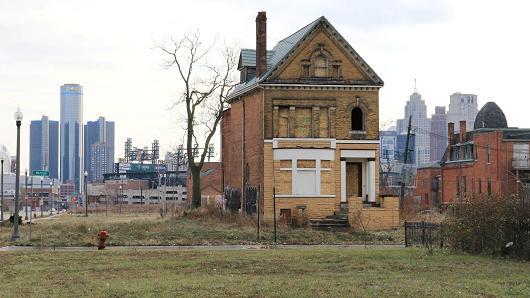 It's different here...?
While admittedly we haven't seen any such thing yet, this will doubtless give rise to articles closer to home in the coming weeks drawing parallels with Australia.
"Could this happen here too?".
Instead of dismissing the notion out of hand ("well, it's different here...") it may be worth considering whether something similar could indeed happen in Australia. In fact, perhaps it already is, albeit on a smaller scale.
Louis Christopher of
SQM Research
last week issued a frank warning about the state of play in a number of Australian towns and cities, including
Port Hedland, Orange, Muswellbrook and Olympic Dam
. There are a number of other mining and resources towns which face similar challenges, particularly in the bulk commodity sectors (iron ore and coal).
A key theme here is that towns and cities which are heavily exposed to one industry can be a far more risky and volatile investment proposition than those which are better diversified.

Diversified industry exposure
The usual riposte would be something along the lines of "yes, but only 5 to 10 percent of people in the region work in the mining industry", but in my view it pays to be extremely cautious or wary of such statements, as they can be quite misleading.
Something I learned from working in the mining industry myself is that a project delay, termination or cancellation, or a collapse in the price of a key commodity, can have fairly dramatic and largely unforeseen knock-on effects for a region.

Even where a project or industry only directly employs one tenth or one twentieth of the workforce of a region, the impacts can be felt across ancillary industries and can be quite catastrophic to a regional economy.
It also likely pays to be wary of "well, it might turn out to be OK" rhetoric.
One of the most important advantages that a property developer or investor has over a purchaser of a place of residence is that they are not compelled to buy anything, anywhere or at any given time.

It's a comparative luxury and should not be underestimated.

Within reason, an investor can choose to buy in any location, in any country, at any time they choose, so on that basis "it might be OK" is unlikely to be a value proposition that should lead anyone to making a positive investment decision.
Investment philosophy
Like most people who have invested in the share markets over time, and particularly those with experience in the mining industry, I've done my fair share of dabbling in the "penny dreadfuls", particularly in the early days (in Australia this usually means resources exploration companies with no track record of generating profits, or indeed revenues).
Today, I would no longer do so on a matter of principle.

Having learned from some inevitable loss-making trades in the early days as repeated capital raisings diluted out my holdings, my investment philosophy today is to only buy investments which I can hold on to if I live to be 100 years old, if I so choose.

I am no longer in a mad hurry and no longer have any need to take undue risks, so, simply, why bother?
For example, even if I liked the company - which I don't - I wouldn't buy shares in Facebook. That would be getting far too close to price and market timing speculation for my liking.

While the company might claim to have a zillion users today, I know from my own experience of living in south-east Asia and visiting India that millions of those users signed up a few years ago and will never venture to log in to the social media site ever again.
In time, the Faecbook company might grow and evolve to become something different from what it represents today, but I think it is more likely that over the very long term, other businesses will begin to challenge its dominance and decline will eventually follow maturity.

Similarly, while I am a big fan of Twitter and use the website as an effective "news feed" today, I wouldn't buy shares in the company for similar reasons.
Over time, slick niche alternatives will spring up and the business life cycle of the Twitter venture will switch subtly yet surely from growth, to maturity, to decline.
In fact, this may be already happening - investors interested in the markets are already looking to specialist and interactive feed alternatives such as
LivewireMarkets
.
Livewire
brings with it the advantage of being a specialist site and thus providing more specific and in-depth analysis, with the added bonus that your feed will not be clogged up with news of who is winning
X-Factor
or has been eliminated from the dance-off on
Strictly Come Dancing
(or whatever).
Investments you need never sell?
While no stockbroker or active fund manager would ever recommend such a thing, if I choose to buy into a low-cost retail index fund which adopts a buy-and-hold approach to 300 of Australia's largest companies and property trusts, I can say with some level of confidence that I can hold that investment even if I live to be 110 years of age.

Essentially, I'd be buying a share in all Australian business and would ultimately benefit from long-term capital growth and tax-effective income (dividends with franking credits attached), although there would naturally be some volatility along the way.

From time to time some of the businesses I own a share in will be taken over, or will merge, or will fail. But it won't matter too much, as over time they will be replaced in the index and the fund re-balanced.

Property investments for the long run
Moving back to the property investment angle, this is also why I aim to invest in cities with a diversified range of industries which will also deliver long term capital growth and income.
The problem with too many regional cities or towns which are heavily tilted towards one industry, for me at least, is that I can't say with any level of confidence at all that they will continue to grow in popularity over the long term.

When industries are growing rapidly, it seems as though the good times will last forever, but they rarely do...
Look instead at developed cities with a range of industries, particularly those which I believe will always be needed (financials).

London, for example, is expected to add another 1 million heads over the next decade, and dwelling construction will simply never keep pace.

There will no doubt be a price correction somewhere along the line, but the demand for well located property over the long term is assured (the Greater London Authority puts the full metropolitan population of London at well over 21 million today, more than double the figure for "London" recorded in Census data).
Sydney, is another population which is projected to expand close to a massive 7.7 million by the middle of this century, with only a relatively confined space in which those 7.7 million people will ever choose to live.
The problem for cities with a heavy focus on one or two industries, including Detroit (and indeed, Sheffield, which saw its steel and coal employment heavily impacted), is that, just like a business or a wider industry, they can experience a life cycle - growth, maturity, and then decline.
Today, Sheffield is attempting to reinvent itself (rebirth) as a University city and as such the population has stopped declining, although the massive student population fluctuates wildly through the year in line with its semester dates.
In Detroit the rate of population decline has slowed to just 7500 per annum, but since, as I always say, the difference between a population which is growing moderately and one which is declining moderately is like the difference between night and day, this is still an ugly dynamic.
The Mayor of Detroit has vowed to arrest the population decline, while others have proposed pulling down thousands of houses in order to address housing market woes.
In short, it's a mess.
The Mel-Syd boom
The contrast with population projections for Australian cities such as Sydney and Melbourne are stark, a point was highlighted by a number of property commentators back in 2008, though others continued to insist that the relevance of population had been "debunked" by academics.

Clearly only a buffoon would try to draw a straight correlation between population growth and dwelling prices, but as the Detroit example illustrates, a property market with a falling population will fare worse than one with a growing population.

And, in any case, since properties are mostly bought by people and people tend to need jobs, I would tend to look towards cities which are expected to see long term growth in both, particularly in business and financial services as well as other service industries.

I'd be much more wary of cities which lean heavily on manufacturing or the automobile construction, for example.
New population and immigration brings construction and economic growth as new infrastructure and dwellings are built, and the real estate market should typically cycle accordingly as supply ebbs and flows in response to the new demand.
Shifting from the sublime to the ridiculous, it was projected this week that the average
Sydney house could cost $48 million by 2064
.
While this analysis is is about as credible as the "epic crash" predictions of 2008, it does underscore the point that over the very long term, nominal dwelling prices in Sydney are likely to be spring much higher than we might tend to think, given our overwhelming propensity to think in today's dollars.

I do genuinely think we could see a few alarming price corrections in some regions, though, particularly as mining construction plummets over the next few years ahead, and downward pressure on commodity prices forces marginal producers to the wall. Australian coal miners look especially vulnerable.