Ore rebound?
A sizeable and welcome rebound in the iron ore price overnight, up by around 4 percent to US$83.10/tonne. With the Aussie dollar down at 87.6 cents, this means that in Aussie dollar terms the ore spot price is sitting back at around A$95/tonne, keeping most production nicely profitable.
Given that iron ore alone makes up
around a third
of Australia's commodity price index, that's pretty important.
Is this the start of a long and strong rebound? With the disclaimer that I spent years in my employed career trying to pick turning points in commodities markets while mostly getting it miserably wrong - and while also acknowledging that there has been an October iron ore price rebound in several previous years - the answer is "probably not".
From a fundamentals point of view, demand from China seemed likely to have slowed. Despite this, the latest trade data yesterday defied expectations recording a 15.3 percent leap in exports and a 7 percent rise in imports, with imports of iron ore hitting their second highest level ever recorded in rising by 13 percent in the month to 84.69 million tonnes.
That's
if
you believe data from China - the economy may be reported as growing at around 7.3 percent, but
I suggested here
, that figure could just as easily be 6 percent or even less for all we really know. Another good proxy for China sentiment might be what is happening in Korea, and that country has shown signs of being a slowing economy.
From a supply perspective, it's hardly as though supply of iron ore has slowed much as
I recently looked at here
, while stockpiles of ore likely remain elevated.
Does the market really believe that these fundamentals justified ore futures springing back by nearly 5 percent to their upper limit? That seems doubtful. More likely the market believes that we have found a short term support level and short positions (of which there must be a great many) are being covered.
Interest rates to fall?
An August survey of 23 economists found
all 23 of them
to believe that the interest rate easing cycle was over with the cash rate at 2.50 percent, and the next move in rates was to be up. Even until a few days ago, economists seem remarkably upbeat forecasting hikes, hikes, hikes out to Q4 2015 (even up to 3.50 percent in one case!).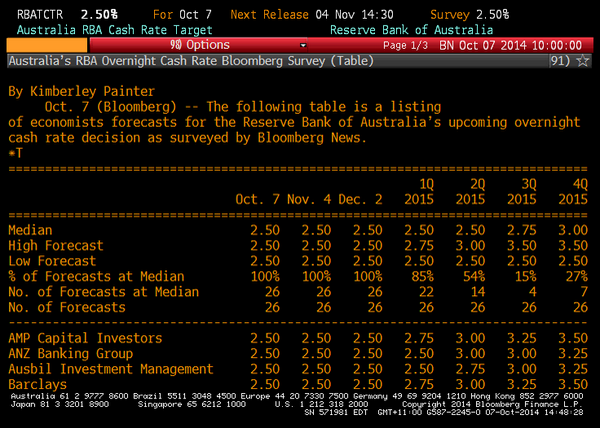 Going against the grain, I have been suggesting here for a fair old while now that I think there may be an interest rate cut or even
more cuts to come
.
That's a lot of drag on the economy, and while the iron ore jump is welcomed, the trend in the commodity price index remains very much down.
Futures markets are now slowly coming back around to the idea of another rate cut. Only ten days ago, remember, markets were seeing nothing but rising rates, whereas now they are pricing in about a 35 percent chance of a cut to the cash rate by the middle of 2015 (click chart):
The case against a cut?
With the fundamentals of the economy weak and inflation appearing soft, why wouldn't the Reserve Bank cut? One of the reasons, as mentioned here before, is a concern around overheating the housing market. However, this is really a Sydney issue for our money, rather than an Australia issue.
It's true that the Melbourne property markets have been strong, but vacancy rates there are relatively high, there is plenty of stock on the market, and if markets are said to turn when there are more sellers than buyers then surely the unprecedented
1800 Melbourne auctions scheduled
for Cox Plate weekend must be a good chance to slow the market (one would have thought anyway).
Melbourne has been defying gravity for some time, but a great number of vendors seem willing to sell.
Meanwhile, property markets in Canberra, Adelaide, Perth and most of regional cities have been relatively soft over the last four years, while Brisbane is only beginning to recover from a long multi-year decline in real terms since 2008.
So the Reserve could feasibly left with a monetary policy choice which weighs up the health of the economy versus risks in Sydney property.
We've predicted for a long time that the Reserve Bank could
end up wearing
a Sydney housing boom, a view which was quite often
ridiculed
but nevertheless looks to be well on track, with Sydney recording price growth approaching 55 percent since late 2009.
Mining regions can see spectacular returns, but for my money are not a great bet on a risk-adjusted basis. Better to see steady long term returns in city locations than boom/bust results in speculative regions.