New supply...
The next phase of the Central Park, Broadway development in Sydney getting close to roll-out, the brewery conversion sitting in the shadow of the award-winning Living Mall development in Ultimo/Central. New apartment supply is slowly but surely coming onto the market now...
The new supply is certainly needed, with Greater Sydney's population growing at a rate of around 80,000 persons per annum.

Existing demand...
Tomorrow, the ABS will release its
Lending Finance
data for May, which will shed more light on where investor loans are being deployed.
The April data revealed continued soaring demand for investment property in New South Wales (overwhelmingly, Sydney) reaching unprecedented heights, with the rolling annual value of investor loans rising in a near parabolic fashion (click chart):
The above chart is instructive in that it shows how, ultimately, housing finance always must come back to economics and labour markets.
It is interesting to consider that when in 1996 an "Australia edition" of the board game of Monopoly was released, the titles were ordered by capital city thus: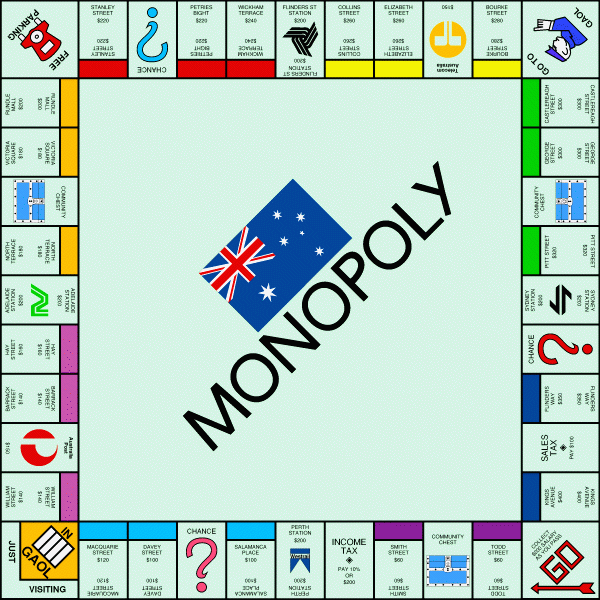 That is:

Darwin, Hobart, Perth, Adelaide, Brisbane, Melbourne, Sydney and Canberra, with Canberra taking top spot due its capital city status.
But note how the capital cities and states with surging mining and resources economies (Darwin and the Northern Territory, Perth and Western Australia) have powered ahead today.
However, the southern states and capital cities with weaker economies (Hobart and Tasmania, Adelaide and South Australia) have been left floundering.
The median dwelling price in Perth is more than 40% higher than that of Adelaide today.
Meanwhile, Darwin's median house price is higher than that of Perth, Brisbane and Adelaide, in equal parts due to a tremendous resources boom and Darwin's woeful restrictions on dwelling supply (and yet people write books claiming that supply is essentially irrelevant? Very odd).
Anyway, we'll see what tomorrow's Lending Finance data brings.
In particular, it will be interesting to see whether Sydney continues to boom in terms of investor activity, spurred on by low borrowing rates (click chart):