Unemployment rate falls
Something of a surprise today as the ABS reported that unemployment fell to a seasonally adjusted 5.8%. The market had expected a rise to 6.1%.
The usual debate wrestles back and forth about the strength or otherwise of the data, a perennial problem when the report rests on a relatively small sample.
Overall, another rise of 18,100 jobs was a very good result after a stonking read last month where nearly 70,000 jobs were added.
The mix between full time and part time employment continues to shift around subtly from month to month, but from January to March the economy has added more than 66,000 jobs, nearly all of them full time.
And, with 16 million more hours being worked in the economy over the past 3 months, there are plenty of good signs there for those who care to find them.
Total employed increased by 18,100 to 11,553,200 (click chart).
State versus state
However, before one becomes too carried away, it's important to note that jobs are not being added equally across Australia. In fact, in some states jobs growth over the last half year has been weak, and even negative in one case.
Over the past six months, the Australian economy has added 83,900 jobs, but it's a very mixed picture (click chart):
The New South Wales economy (+33,600 jobs) is cruising, and Queensland (+26,100) also recorded a tidy result.
Some commentators have been busy congratulating themselves on calling an Adelaide property market upswing. I'm not a natural born worrier - far from it, in fact - but the above chart worries me.
South Australia has been recording steady population growth of around 15,000 per annum, but rather than adding employment the state has been shedding positions in aggregate, which is not a pleasing dynamic. Even if you stretch the chart back 12 months, South Australia is dropping jobs.
At the end of this month RP Data appears likely to report year-on-year dwelling price growth of less than 2% in Adelaide - below the rate of inflation and the worst performance of any of the major capital cities in the enduring low interest rate environment - and dwelling prices remain below where they were in 2010, which is a very poor performance by anyone's measure.
Sure, property markets are relatively illiquid and may be turning upwards on a localised basis, but there may remain a sting in the tail in Adelaide.

When all's said and done, property markets are supported by the foundation of the jobs market and employment growth, yet if you look back over the past 4 years, several states have added very few jobs at all.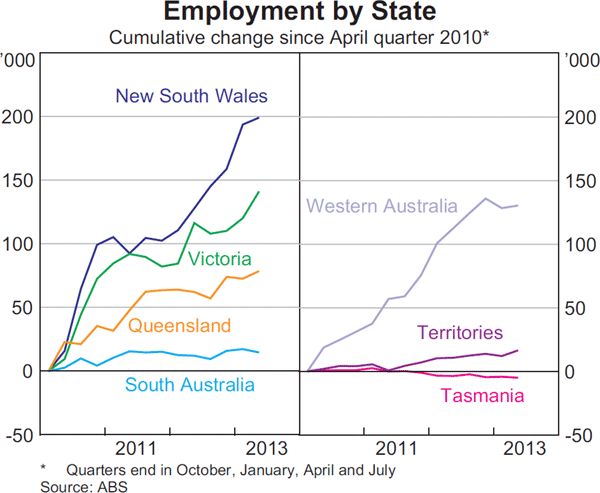 Unemployment rates by state
More evidence? Let's take a look at the unemployment rates by state as reported by the ABS today (click chart):
New South Wales is once again seen to be coasting and appears to be the state with the most robust economy, with the state's unemployment rate declining to just 5.3%.

Western Australia's figures are bouncing around like a demented billiard ball - falling by a preposterous 1% in only a month thanks to the bewildering effects of sample rotation - but the trend in unemployment, as expected, is still gently upwards due to the mining construction boom having passed its peak.
With the strongest rate of population growth in Australia, Perth's economy and property markets will likely do just fine, in my opinion.

Melbourne's property markets continue to defy gravity with higher unemployment and higher vacancy rates than other states.
But the southern states...oh, the southern states...they are far from a sight for sore eyes.
In Tasmania the rate of unemployment is up at 7.5% and South Australia has reverted all the way up to 7.1% unemployed.
With the market gradually beginning to price in rate hikes, the property recovery in the southern states states appears to be at risk of being choked off before it has even gotten going.