Demand
Some time ago I went for dinner for a friend's birthday at a restaurant in Surry Hills and when the conversation got on to real estate, as it does in Sydney all too often, the lass sitting next to me who had only recently moved to Sydney (living in the inner west) said:
"You know, I can't see property prices falling around here - there's just so much demand for property and not enough of it".
I had to laugh inwardly to myself, as I wondered how someone who'd been looking for an apartment since moving to the harbour city for all of about three weeks had been able to grasp what plenty of economists - and for that matter property market commentators - never venture to get a handle on.
That is, how tight Sydney's property market is in those popular suburbs where the supply is all but fixed.

As it transpired, she was correct, with prices in the inner west rising relentlessly since that time and vacancy rates remaining wretchedly tight.

It just goes to show how a little bit of legwork can give you a genuine feel for what's happening in suburbs at a micro level, to add to what is being reported on a macro level.
Crash risks
An oversupply of property is
one of the factors
which heightens the risk of a property crash, and in 2003 it appeared that Sydney might be a particularly risky proposition.
Not only had dwelling prices boomed, the rate of population growth was falling sharply (in part due to interstate migration) and vacancy rates jumped to 4.3% in the harbour city and some 5.3% in the outer ring suburbs according to the REIA.
As prices cooled, construction of dwellings dropped sharply as one would expect in a typical market cycle.
In fact, construction levels fell to such woeful levels by 2008/9 that the crash predictions being peddled at that time didn't appear to make much sense unless, of course, you believed that unemployment would increase very sharply, which in the event, it didn't - with some skill and a bit of luck.
Of course, demand for investment properties will ebb and flow with sentiment and the interest rate cycle, but ultimately in a city with a rapidly growing population if construction doesn't keep pace with requirements (which will likely happen where prices are easing) eventually this will come home to roost in the guise of a tightening market until upwards pressure on prices eventually returns.
Source: RP Data
Those who work in the industry tell me that large developers are still genuinely struggling to break even on large scale unit developments even at today's higher prices - and this is indeed being borne out in the relatively slender net profit margins being reported by residential developers on the securities exchange.
Based upon that information, it strikes me that short of grants, concessions or other incentives being made available to developers, a drawn out fall in prices would see dwelling approvals and subsequently construction dry up once again.
This is why it is so important to understand replacement cost when reading the property market cycle.
The Reserve Bank itself gave a pretty handy rundown
here
.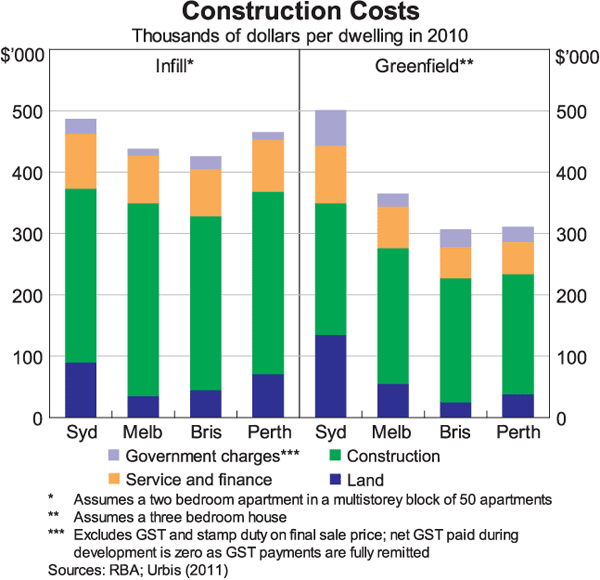 The above figures for infill sites relate to multistorey apartment blocks and give a useful indicator as to replacement cost of property in Sydney.
As a very general rule of thumb, when apartment prices fall below replacement cost...au revoir construction.
On the flip side, median house prices in Sydney long ago became decoupled from any kind of sensible price/income ratio, and as such are marching to their own drum and may be more prone to a correction.
Crisis looms?
And so, here we are today.
The REINSW reported this afternoon that March 2014 vacancy rates in Sydney had fallen to near crisis levels falling by 0.3% to only 1.4% (click chart).
Reported the REINSW:
"Sydney is going backwards in regard to properties available for rent. Something must be done to ensure that there is a greater level of choice for those seeking to secure a rental property in Australia's biggest city."
In Sydney's inner 10km ring, vacancy levels have fallen to desperately low levels of only 1.3%, which would come as no surprise whatsoever to anyone who ventures to actually look at what's happening in the market.
A vacancy rate of 1.3% across such a dense property market is described by the REINSW as "verging on crisis levels".
There are some question marks over whether the new stock which is sold offshore is being let or left empty, but to date, with humble apologies, I have no worthwhile data to present on that.
That may be one to look into.
Elsewhere in the state, of course, demand is significantly lower since most of the speculation is taking place in Sydney's favourably located suburbs and vacancy rates are correspondingly considerably higher.
Construction picking up
As prices have picked up, so too is now construction in Sydney, and over the coming years vacancy rates will likely eventually rise again, but the rates of vacancy likely to be significantly higher in areas where large new developments are taking place (cf. what has reportedly played out in Melbourne in recent years).
Naturally anyone buying property in Sydney today needs to be extremely wary of buying in a suburb or sector of the market which will soon be inundated with a deluge of new apartments, and that's most particularly the case for persons buying expensive off-the-plan or high rise stock.
In the right suburbs where supply is fixed, it's pretty much as you were with vacancy rates as close to zero as we're ever likely to see.