Wobbles
Some global wobbles this week with the Russian stock market down by more than 10% to its lowest level since late 2009 as investors weigh political worries, while China's stocks have been struggling for some time now.
Following weaker export figures this week, China's forecast GDP growth figures for the first quarter of this year have been cropped back to well under 7.5% by financial services firms, and we have now witnessed a first bond default, albeit a (seemingly) fairly immaterial one in its own right.
Barclays has cut back its China Q1 forecasts to 7.3%, and JP Morgan to just 6.2%. Meanwhile, BoA cut its Q1 forecast to 7.2% and its annual forecast all the way down to 7.2% (from 7.6% previously).
Source: Yahoo Finance
The gold price has taken a nice bounce as a result of the global uncertainties, and if you're looking for another barometer of how the world is seeing the China situation right now, the 5 year copper chart gives a possible indication, brushing into a 44 month low, its worst level since July 2010 as the chart below shows.
I used to write monthly copper price commentary for board reports when I worked in the industry (not particularly well, I ought to add) and it is believed by some that one of the reasons for this is that China's firms which have struggled to raise financing capital had previously been buying copper as collateral - until recently when the slide in price has put them off continuing to do so.
Believe this or not, if you will. Hopefully this means we'll see a bounce forthwith, but when you've called the direction of the copper price wrong as many times as I have you do start to lose faith in the ol' crystal ball.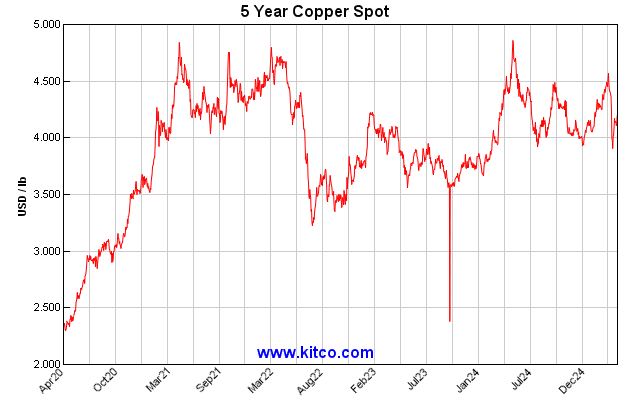 Source: kitco
Australia
The fun part, of course, is trying to work out what all this will mean for Australia in 2014.
The optimists will say that if China records growth of 7.2% in 2014 this is still a very favourable rate of expansion and we should be grateful for that.
The iron ore price has held up just about OK'ish so far, Australia has seen a wide range of promising data from the labour market, to dwelling approvals, retail spending, share prices and booming exports.
As a result, the optimists would argue that the next movements in interest rates will be northwards as the economy heats up which in turn ought to cool speculation in the housing market.
Optimists tend to prefer to look at the bigger picture in China and believe that, be it through stimulus, intervention or by whatever means necessary, China will continue to grow strongly as the decade progresses.
Or not?
The more bearish viewpoint is that the China is far too dependent - unsustainably so - on investment to keep its current rapid growth rate bubbling along and that the wider economic model has more holes in it than a Swiss Cheese.
Pessimists would also believe that China growth downgrades are just the beginning of a trend that has been in the post for some time, key commodity prices including iron ore will weaken due to a dampening in demand and the Reserve Bank of Australia will need to cut rates again later in the year to get the Aussie dollar down and support our economy.
Notably, Goldman Sachs appears to lean towards the less optimistic camp and sees a lower dollar and possibly lower interest rates by the summer time. Time will tell.
Housing market heat
One worry about the latter scenario is that,
as I noted yesterday
, speculation in the Sydney housing market is approaching or possibly already at levels not seen for a decade and further interest rate cuts could potentially see this trend ramp up even further, assuming we have not already reached a tipping point.
If this were to eventuate, one option available to the Reserve Bank in conjunction with Australia's bank regulator (APRA) is the deployment of macroprudential tools, the most likely of which, since they have been recently implemented in New Zealand, would appear to been caps on loan ratios (aka. LVR caps).
The New Zealand measures whereby banks are restricted from issuing more than 10% of new residential home loans to borrowers with less than a 20% deposit should quickly take the speculative heat out of any housing market.
Such measures will likely be debated increasingly through 2014 if the uptrend in the Sydney housing market continues at the same pace for too long.
Clearly in any market there are winners and losers from all courses of action and LVR caps will quickly remove many potential buyers from the market. The corresponding plus side being that by the time potential buyers are eventually in a position to make an acquisition, prices should not have run away from them uncontrollably.
The downside to the LVR cap approach - unless it is somehow targeted upon one city only - is that dwelling prices in many areas, including in Brisbane and Adelaide - can hardly be said to be booming, since they sit at below the levels seen in 2010.
Expect a lively debate to continue as 2014 progresses.