Puntastic

I'm just trying to second-guess what the headlines will be tomorrow when the Aussie press gets hold of the story that Prime Minister Abbott - born in London himself - is to reintroduce Knights and Dames of the Order of Australia.
Whatever next, they will say?
A return to miles, gallons, pints of mead, shillings and pence?
The PM to live in a castle to protect himself from trebuchet attacks (or was it mangonels?) launching boiling oil?
How about a Union Jack on the Australian flag and the Queen as head of...no, let's leave that.
Abbott announced that up to four knights and dames will be appointed in any year, including all Governor-Generals, which means that the present GG Quentin Bryce will be the next Aussie Dame.
The categories of Knight and Dame of the Order of Australia were created by the Queen under the Fraser government, but they discontinued just a decade later under Hawke.
The move by Abbott seems to have come as something of a surprise, especially since John Howard was a staunch monarchist himself, yet never followed through with such a move.
There has been widespread speculation that Howard himself is likely to be in a line for a gong.
UK inflation falls
While we're on a Pom-themed post, the UK inflation rate has fallen to just 1.7% announced the Office of National Statistics today.

The trends is sharply down since 2011 (click chart).
This is the second consecutive month that the inflation rate has come in below the 2% target.
The main drivers were cheaper petrol, clothing and footwear.
Importantly, real wages have come close to no longer falling, and are now falling in real terms at their slowest rate since April 2010.
Almost there and great to see the global recovery continuing...!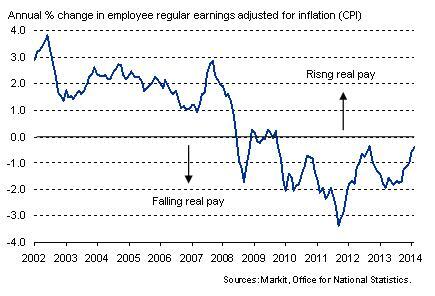 Source: Markit