Missing data
For a long time, some
property market observers
have been making the point that first homebuyers aren't being fully captured in the reported data.
Since first homebuyer grants and stamp duty exemptions are no longer fully available on existing properties in some states, such as New South Wales and Queensland, first-timers have had no reason to be recorded as such.
It's a point that has been made a great deal since the media reported the demise of first hombuyers in 2012, although it hasn't seen much mainstream media airtime.

However, although we can be certain that this is happening to some extent - with staff at brokerage and mortgage firms having admitted as much - it is not possible to measure the magnitude of the issue.

You can't measure what is not measured, and it remains something of an unknown.

FHB as investors
We have also made the point on many occasions that, particularly in cities like Sydney, more than ever before younger buyers are electing to start with a rental property first rather than a place of residence.
As a long-time believer in the flexibility offered by renting while investing heavily elsewhere, I can't say I'm all that surprised.
If anything, it can make a great deal of sense, since the monthly cashflows of renting are frequently cheaper than those of owning (mortgage rates tend to be higher than rental yields, while owners retain responsibility for a multitude of costs such as strata fees, insurance, repairs, maintenance etc).

People are also changing jobs and travelling more frequently and more widely than ever before, which can necessitate moving locations.

Trading properties can incur nasty transaction costs such as stamp duty, legal fees and agent fees, so why not buy and hold an investment instead?
All well and good, but what about the evidence to support this theory?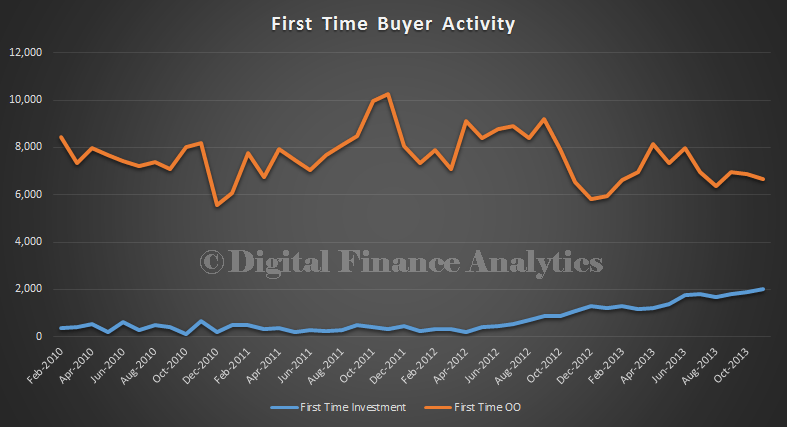 Source: Digital Finance Analytics
Of course, the mainstream media reporting has simply reported that first homebuyers have stopped buying, but the above chart suggests otherwise.
In fact, if you add the estimated number of first-time investors to first time owner occupiers, the chart implies that the total figure is tracking at a well above 8,000.

This is actually higher than has historically been the case, although one might hope and expect the numbers to increase over time as the population grows.

Why?
As for the reasons why first timers are looking at investment properties?
The surveys conducted by Digital Finance Analytics
listed these
as some of their main findings:
-the tax-efficient nature of property as an investment is considered very attractive
-the average age of first-time investors is 31 years
-more% than 60% of those surveyed were looking at a long-term buy and hold
-91.5% of investors believe that prices will rise over the next 12 months (presumably explaining why they wanted to get a foothold on the market via an investment property).
I've always felt that the reporting with regards to "first homebuyers" is largely rubbish, since it tends to revise on massive sweeping generalisations.
The term itself covers a huge cross-section of the population, from 18-year-olds leaving home to those more than double the age.
And, as we are seeing in Sydney time and time again, more and more people are electing to rent where they live and buy investment units elsewhere.
It's a trend I expect to see continuing. First home buyers haven't gone missing, they've just moved with the times.