Well well, business confidence at +6 in December 2013 according to the NAB survey and business conditions up to +4 (from a rather poor -3 in the previous month).
Both are well up from their previous cyclical lows perhaps suggesting an economic recovery is now underway.
Other indicators looked good too, with trading (+12) and profitability (+6) turning in good results.
Employment - and recessionists will laugh here - tends to be a lagging indicator. Ha, but, of course! Results here were still weak enough, although perhaps hearteningly better than they have been.
NAB specifically notes that sectors such as personal and recreational services and the wholesale and retail sectors have driven the rebound.
In other words, low interest rates have spurred on dwelling prices and the wealth effect is flowing through to consumers as one might have hoped/expected.
Still some challenges ahead as mining investment falls in 2014, of course, but, who knows another good month or two might have the Reserve Bank looking at its monetary policy stance.
Even the Aussie dollar looked some heart in the news and bounced back above 87.5 US cents.
Some bright news on a ripper of a day in Sydney.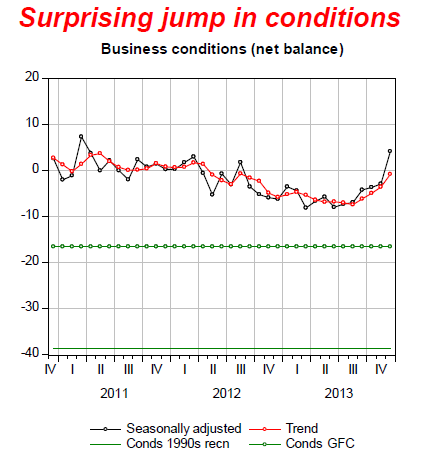 Source: NAB