Not much fun in the share markets at present with the markets set to record yet another day in the red, and quite sharply so.
Strange as one would have thought that markets would have fully priced in a 'taper' in the Fed Reserve's stimulus, but seemingly this was not the case. Such is the fickle nature of short-term market movements.
On a brighter note, while some will try to portray the latest Housing Industry Association release in a negative light, the blunt truth is that new home sales recorded their first annual increase in 5 years, and more than that new home sales have come roaring back from very low levels in the middle of 2012.
Meanwhile, Sydney property markets are back in the headlines, with dwelling prices having picked up sharply through 2013.
Australian Property Monitors announced today that median dwelling prices in the harbour city increased by some 6% in the last quarter of the year. The Sydney market remains exceptionally tight with very little in the way of stock on the market.
Auctions recommencing forthwith...
One final note: the HIA highlights that in the last quarter of 2013, detached house sales in South Australia increased by some 50.9%. Adelaide turning the corner at long last?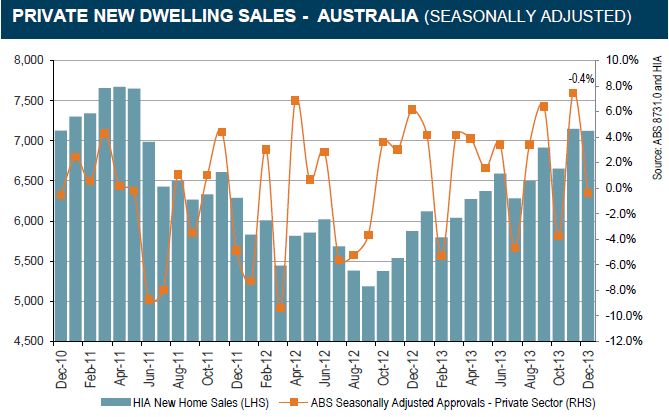 Source: HIA