As someone who travels a lot, I'll never be able to claim to be a 'greenie', although as a vegetarian I naturally have tendencies in that direction. To my surprise, my old man even stood for County Election as a Green Party member in 2013 - how times change.
One key message I learned from attending a series of half a dozen lectures on the subject of climate change (ironically, while on a pleasure-only round-the-world trip) is that if we all determined to make consistent small changes to our lives, then the problem can be tackled. By the way, 36 degrees again today in Sydney - summer is still six weeks away!
The great challenge, of course, is that rapidly urbanising countries such as China, India and Brazil often have diminished interest in climate change and would rather focus on increasing industrial output - and who can blame them?
During those climate change lectures, many of the most vociferous attendees were furious Aussies who stated that the charts on carbon emissions were misleading (Australia often falls near the top of the charts in per capita emissions) because "there aren't that many of us". And with an Aussie population of only 23.25 million, compared to the industrialising countries noted above, this is unequivocally true.
And there is the crux of the climate change problem: we all need to buy in or it won't work.
Car share
I am a car owner (in England) but this week I've had my first brief dalliance with car-sharing in order to view a few properties on Sydney's north shore.
It was certainly great value for money and extremely convenient, although I'm still a little ambivalent as to the long-term environmental impact of car pooling. Will it result in fewer cars on the road, or will we simply have more people driving who might otherwise be using public transport?
The basic idea is that you only pay for a car when you need one (thus saving on insurance, repairs, green slip costs etc) and through using a swipe card rather than a key, pick one up a vehicle from one of the dedicated bays dotted around the city.
Anywhere, here's the tagline: "...more convenient than car rental, cheaper than owning a car and a great way to do our bit for the environment. Membership gives you self service access to cars across Australia, all available to book and access 24/7."
Renting not owning
There was a crude quote (I won't cite it here) which suggested that most things that you pay for can instead be hired, and indeed wealthy people have often taken this approach to their personal finances.
Expensive new cars can depreciate horribly, and even classics can depreciate badly if you actually use them. Expensive boats can hold their value surprisingly well, but can equally cost a fortunate in insurance, mooring and servicing costs. Renting can be more attractive than owning in many cases.
What about renting where you live? Now being in my mid 30s, I'm finally ready to buy a place of residence myself, but I've long been an advocate of people at least considering renting where they live and investing elsewhere (in property or in shares). There are a number of reasons for considering this strategy to get on the property ladder:
1) Buying property entails high transaction costs and people are changing jobs and locations more frequently than ever before. Does it make sense to buy if you'll only have to sell in 2 years time and buy again (probably not)?
Some people (including my wife, in fact) elect to buy a place of residence at 21 and then retain it as an investment rental property. This can work brilliantly if you've bought in a great location close to city employment, entertainment and transport - perhaps not so much if you're buying 50km from the CBD where fewer people elect to live and work;
2) It's cheaper to rent great prime-location properties than is to own them (in terms of monthly cashflow at least) and you have the freedom to live and move wherever you want. You can invest those monthly savings in residential properties and/or shares; and
3) In Australia, owning investment property can be tax efficient.
Changing times
In times gone by, a common financial profile involved buying a house in which to live and paying for it with a full-time job. One job, one house, two cars, lots of expenses. We're still not entirely sure what the future holds, but this weeks' unemployment data from the ABS showed an interesting ongoing trend towards part-time employment and away from full-time equivalent roles.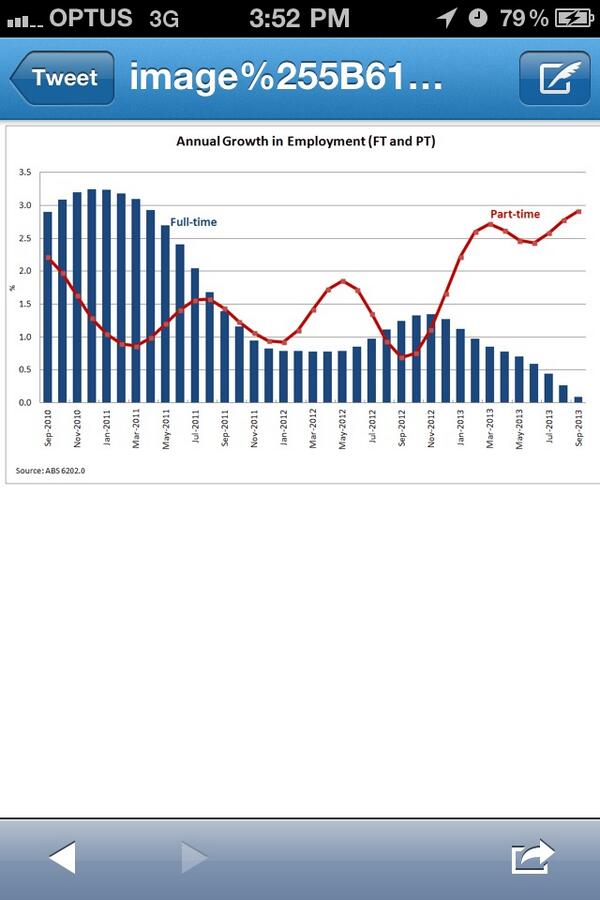 Source: ABS
Leverage
The problem with the one job/one house/two cars approach - apart from the fact you will get 'ticket clipped' for stamp duty, legal fees, estate agent fees etc - each time you move house in order to trade up, is that it lacks leverage.
How can you achieve leverage? There are many ways. One is to own a business rather than a job, to benefit from using the leverage of OPT - other people's time. Another is to rent where you live and become a landlord of multiple investment properties by using OPM - 'other people's money'.
Despite the unending "it's all unfair and it's all unaffordable" articles doing the rounds in Australia, as a landlord you have the luxury of investing in cheaper cities and locations, and therefore affordability is not a key part of the equation. An ability to save money through renting and not spending on overseas holidays and eating out six nights a week, however, is vital.
I've never understood the theory that owning property in a capitalist economy is unethical (as someone who has rented for most of my adult life, except for a two year period of owner-occupying, I for one am very glad that we have landlords willing to take on the costs of property ownership). But if you fall into that category, you can still benefit from renting where you live and investing elsewhere.
It's true that most fixed interest investments are unappealing at the present time unless dicing with default risk is your bag, but there is a whole world of companies, stock market indices and investment products out there which you can invest in. The world isn't 'fair', however you choose to define that term - it never will be - but, unlike many places in the world, Australia is a free country and there are choices out there for all of us.
---
Just finished reading Shooting Balibo by Tony Maniaty, once of ABC. A really outstanding read. I miss living in East Timor sometimes; they're the best people. Check it out if you ever get chance.