Aussie property market commentary, lest anyone needed reminding, often tends to be very dull and very circular. On the one hand there are renters and other vested interest groups who have been saying since around 2006 (or half a decade before that in some cases) that residential property prices are too high and must inevitably get crunched - which may indeed be true in certain locations.
On the other hand, there are the blokes like me who contend that in cities such as Sydney, at least, a population policy which sees
~
60,000 extra heads in the metropolis each year will likely result in higher prime location land prices over time (although there will surely be ebbs and flows along the way).
To mix it up a bit, today I'll take a look back at Thatcher's commercial property bust of 1989-1992 to see what we can learn from it.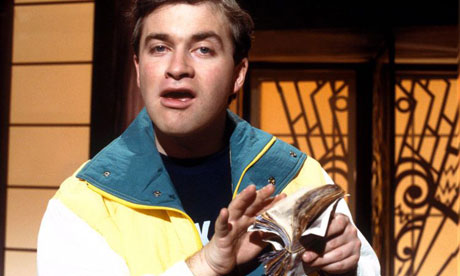 Between 1985 and 1989, the value (or, should one say, price?) of UK shop property appreciated irrationally by 85%, and that of London office property more than doubled, leading a huge amount of new development.

1
Then...bang. Recession hit. It had seemed that the financial contagion which followed the famous 1987 Black Monday crash would only be temporary, but instead the UK economic recovery proved illusory and for a variety of reasons economic growth stalled into the early 1990s.
Immediately following the time there had been a mass of new development, belt-tightening businesses cut back on their office space requirements and commercial rents plummeted. I recall my old man - a probation officer - working in 1991 in an outrageously large commercial development by the name of 'Globe House' (possibly so named because it was almost as large as Planet Earth itself, though I'm not sure) in which, as far as I could tell, there were no other tenants at all. It was a disastrously timed commercial development; a victim of the recession, pure and simple. Today it is largely a residential development with a Fitness First gym in it, like many such buildings in the south-east of England.
Compounding the mess were high interest rates (the BOE official bank rate nudging 15% in 1989) which forced developers who had geared up heavily into severe financial distress. Meanwhile, commercial property owners demanded high yields to compete with the comparatively high returns available on fixed-interest and other investments. Consequently, commercial property prices had nowhere to go but down.
And down they did go. London city office prices fell by an astonishing 60% between 1989 and 1992, while UK shop titles fell in value by around a quarter.

2

Developers were left holding properties which they could not let and loans they could not repay...and inevitably they went bust (developers were rarely even able to liquidate their properties to repay loans as market values had fallen so far). In turn, British clearing banks wrote off billions of pounds in bad loans and the recession deepened.
One of the unusual outcomes of the early 1990s commercial property bust was that panicked tenants quickly realised that they had signed long-dated leases with upwards-only rent provisions - rents could be adjusted upwards to market levels, but never downwards.
Consider that for a moment: businesses had mistakenly believed that commercial rents and property prices could only move in one direction: upwards. Tenants who had signed leases to pay £60 per square foot for commercial property before the bust found themselves paying the same rents half a decade later even though true market prices were by then up to 50% lower.

3
Meanwhile, valuing commercial property became nigh on impossible as there were so few transactions taking place that there were almost no equivalent sales against which to benchmark. Worse still, in the boom years it had become commonplace for tenants to be offered 3 year rent free periods (a royal pain in the backside for London-based accountants under the old leasing accounting standards) as an inducement to let, leading to a great deal of confusion over what a genuine market rental price actually should be.
By 1995, the market had at last stabilised and commercial rents were rising once again. Results from the bust included a movement towards shorter lease terms, and a structural shift to lower inflation meant that high rates of inflation could no longer be relied upon to push property prices up quickly. Investors instead again demanded higher yields as compensation for the elevated price risk.
As interest rates had eased to lower levels (the official bank rate was down to around 6-7% by the mid 1990s), investors found themselves in the unfamiliar yet pleasing position of being able to command what we used to call in the old money a "reverse yield gap" - commercial yields at 7.5% were higher than interest rates (and indeed comfortably higher than government bond yields at 4.5%) - property speculation appeared to be a no-brainer and the cycle started over once again (and how history repeats, with 10 year fixed resi mortgage rates now available in the UK at below 3.9%!).
Lessons to be learned
Mark my words, I can always find a way to tie a blog post back to AC/DC, no matter how obliquely. In an Atlanta interview in 1978, then lead singer Bon Scott noted ominously:
"The more we work, the more we move on, the more ideas we get. It's getting better and better. I can't see an end to it. It's just like...infinity rock and roll."

Tragically, Bon died alone in 1980, choking after a night of excess, his quote remaining as a stark reminder of that most incurable of human conditions: when times are good we think they will be good forever. It's the same human trait which causes people to become addicted to intoxicants, sex or gambling, and governments or world leaders to get addicted to debt, or monetary stimulus, or spending, or conquering other countries, or whatever else.
Commercial tenants and developers in 1985-1989 London had made a range of assumptions about the future course of rents, property prices, inflation and interest rates which proved to be inaccurate.
Am I arguing, therefore, that people should never buy property? No, of course not, and those who have been peddling that line for the last decade or so in Australia got their timing wrong. Timing the market always seems to be a cinch in retrospect, but in real time market timing it is rarely as straightforward as it appears.
It is worth considering, however, whether you have an adequate plan to deal with property market downturns.
Losers in the real estate sphere tend to be those who are forced sellers in bear markets, and particularly those who are compelled to sell into thin markets (e.g. the premium sector).
If you are treating property as an investment - be it commercial or residential - you should focus on acquiring only property which is continual
and growing
demand, but which has scarcity value and is in limited supply (for mine, this does not include, therefore, most mining towns or regional property markets, where demand can inherently be lower and land can be more easily re-zoned, released and developed). And also remember that the longer your planned time horizon for holding a quality, well-located investment, correspondingly the lower the risk of an adverse outcome.
It's fascinating to re-read the 'property wealth' books of yesteryear, many of which suggested that those who didn't recognise the new demand for property on the Gold Coast were foolishly failing to move with the times. And, indeed there was plenty of demand for units on 'the Goldie' as the population grew. What they perhaps failed to recognise was the supply side of the equation as new developments boomed, and that residential property markets which are founded predominantly upon speculation as opposed to fundamentals can ultimately be fragile.
---
1
M. Brett, How to Read the Financial Pages, Fifth Edition (Random House, 2000)
2
ibid.
3
ibid.