MacroBusiness charts the investor-led Sydney property boom in this article
here
.
After a steady and often sluggish 9.5 years for Sydney property there is tremendous boom in investor activity underway.

Regular readers will be aware that as someone active in the Sydney property market I've seen this trend building over a long, long period of time now.

Buyers are consistently being drawn to the same established stock located in favoured suburbs close to the city.

Note how housing finance for investors in NSW is up by some 37% in only 12 months: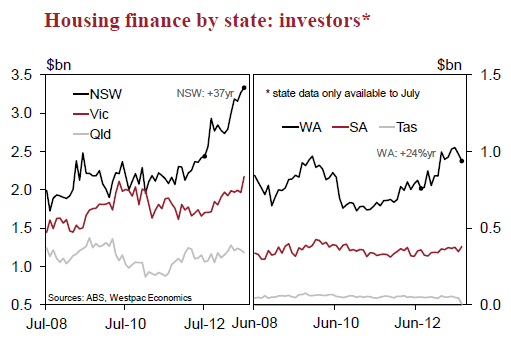 Source: Westpac
The result will doubtless be a continuing surge in prices.
BIS Shrapnel predict Sydney prices will increase by 19%
over the next 3 years, which is somewhat less bullish than SQM's prediction of a 15-20% surge in 2014.
Sydney dwelling prices are already up by around 12% in 2013 alone according to RP Data.
Source: RP Data
---
In other news, the Aussie stock market is still holding up over the past month in the face of the US shutdown - a healthy 0.98% bounce for the ASX 200 today. Clearly the market remains hopeful of a resolution.
Source: ASX
The Aussie dollar has zipped back to a 4 month high at 95.3 cents.
Meanwhile, the Reserve Bank retains its easing bias in its
Minutes of Monetary Policy Meeting
. There may yet be a further interest cut, should it be deemed necessary.
"
Members agreed that the Bank should again neither close off the possibility of reducing rates further nor signal an imminent intention to reduce them."
However, futures markets are pricing in no further rate cuts in this cycle, which will see borrowers rushing to fix interest rates at remarkably attractive levels - at well under 5% in many cases.
Notably, the RBA is going well out of its way to play down any hint of house prices being an issue for concern (on a national level this is no doubt true - the Sydney market is set to become way more expensive however):
"
Household interest payments had continued to decline and conditions in the established housing market had strengthened over 2013. House prices increased by around 2½ per cent over the September quarter and by
5½ per cent
over the year.
However, the value of the dwelling stock relative to household income remained below the levels that had prevailed for most of the past decade. Auction clearance rates remained well above average and turnover had picked up over recent months. Loan approvals for established dwellings for both owner-occupiers and investors had increased strongly over the past year. While the growth of housing credit remained moderate, it was edging higher, with stronger growth in investor credit."