This blog has had three key ongoing themes. Firstly, that in spite of a huge swathe of commentary elsewhere to the contrary suggesting a definite housing bust, investment in property - in the right areas - would continue to perform well. Property market confidence has now jumped to its highest level in a couple of years.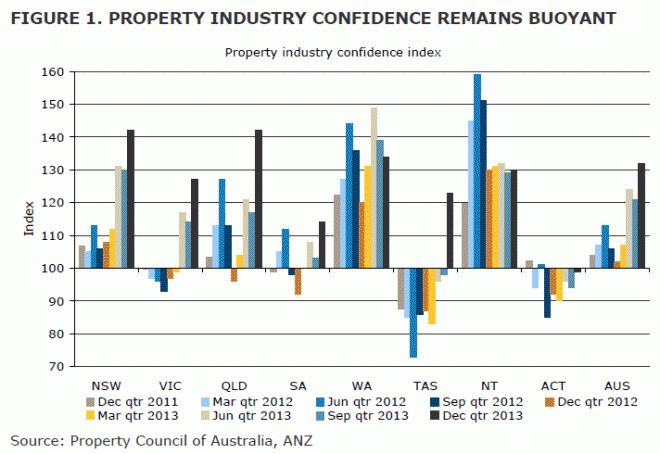 And ditto for the house price outlook.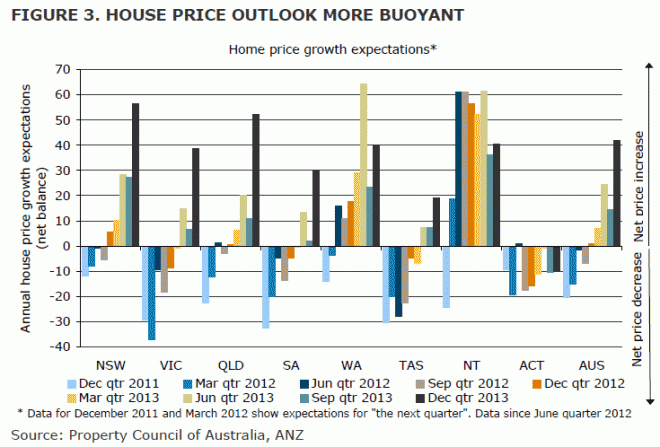 However, as I've always argued, you can't just buy any property and expect to see its price increasing.
In times gone by, inflation and a substantial increase in household debt broadly from 1990 through to around 2005/6 caused this to happen across much of Australia. Today, for dwelling prices to get ahead, you have to follow the speculative capital, which is why I've long predicted that if you're a property investor, Sydney's inner/middle ring will follow on from Melbourne's equivalent suburbs and be the next to blow off.
For years the yield-focussed property experts told us to look at Adelaide (flat for half a decade now), whereas I suggested that Sydney will massively outperform due to investor activity/speculation. Sydney's prices are up by more than 12% this year alone and gains in the last four months are really accelerating. Adelaide remains flat.
Source: RP Data
My second theme has been that investors should look to continue to acquire shares in low-cost diversified LICs, particularly those with a focus on industrials and financials - and to focus on the increasing income streams rather than obsess over prevailing share prices. Over the long haul, this approach should see investors outperform the resources index and the REITs, thanks to strong and sustainable dividend stream growth. And the market has done pretty darned well since the GFC in any case.
Source: ASX
Some of the bearish commentators instead suggested buying gold despite its sky-high prices and lack of yield, the spot price of which has since fallen sharply. There have also been various forays into short-selling (selling something you don't own in the hope of buying it back cheaper later) iron ore companies such as Fortescue Metals (FMG). The share price has once again rocketed causing shorters to lose out (using sell stops is advisable).
Source: ASX
Over the long term, guessing at changes in the direction of the market such as this are unlikely to see you succeed unless you are an experienced or skilled trader with the discipline to stop out of losing trades (which all traders make). Instead, owning quality assets for the long term will secure both income and compounding capital growth.
The third theme of this blog was that Australia would probably avoid falling into recession. There are plenty who have been calling a recession for half a decade now, but it still hasn't happened. There will certainly be headwinds as the mining construction boom unwinds, but monetary policy is gradually working and consumer and business confidence is returning. Meanwhile China's growth looks as though it may even hit about the 7.5% target which can only be good news for exporting Australia.
It will be interesting to see how the RBA's GDP growth forecast looks when they update it next month. Currently, the 90% confidence interval sees Australia averting recession and I think next month's chart will look better than this.