A low interest rate environment
On Thursday 5 March 2009, the Bank of England announced a cut in the official bank rate from 1.00% to 0.50%. This followed a rapid series of cuts in response to the impacts of the sub-prime fallout from 5.75% in July 2007.
The Bank of England has not cut interest rates any further since that time for 0.50% is effectively the 'zero bound' in the UK. We are heading towards five years later, so is there a chance of rates rising soon? Gradually people are beginning to think so as the economy improves, although Governor Carney recently announced guidance suggesting that rates could be stuck at 0.50% for three more years.
Down under, Aussie government bond yields and spreads have ticked up in recent months, suggesting that the bottom of tour own interest rate cycle may be closing in on us some time in the next year.
Elsewhere, government bond yields have ticked up, although US yields received a blow after the 'no taper' announcement from the Federal Reserve this week.
The UK is by no means unique in its application of a zero interest rate policy (ZIRP). In the US interest rates have been stuck at rock bottom since late 2008. Even in Australia, where we have not experienced a recession in more than 20 years, the cash rate has fallen sharply to only 2.50%.
In fact, take a look at other advanced economies - very low interest rate policies since the onset of the global financial crisis:
Inflation is a risk in some emerging markets and policy interest rates have tended to remain some way higher:
A new era?
This week the Federal Reserve in the US threw markets a curve-ball by announcing that it would not yet be tapering back its monetary stimulus, leading commentators to observe that the US economy is "addicted to stimulus".
There are some who now believe that rather than developed countries raising and lowering interest rates to stimulate or cool their respective economies, central banks will instead switch quantitative easing (QE) - the 'printing' of money' - on and off, in order to achieve the same outcomes.
Will this prove true? Well, in the short-term this might well be the case. But over the long term, history tells us that the direction and behaviour of interest rates are by no means predictable
During the Great Depression and after World War II the world saw periods where interest rates fell low and many felt that developed economies might never escape from their downward spiral and low rates. Yet by the 1980s inflation was raging and interest rates were instead spiralling upwards to 20% in the US, 15% in Australia and 15% in the UK.
What we can do about it?

In short, the defence against excessive monetary stimulus is to hold income-producing assets which represent a good inflation hedge - shares and well-located property. There is a lot of focus on whether share markets are 'higher' or 'lower' than where they were 5 years ago. Some markets, such as the S&P 500 are at 'record highs'; the ASX 200 (XJO) index chart in Australia sits below where it was before the financial crisis:
Source: ASX
What this overlooks is that equities are an income asset and therefore when tax-favoured dividends are included in returns, Aussie shares are also at all time highs and continue to represent a proven inflation-busting asset class.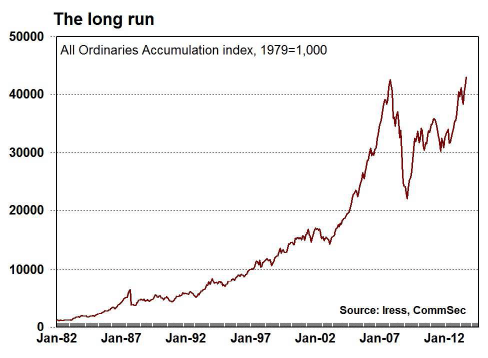 If there is a risk of ongoing monetary stimulus, rock-bottom interest rates continuing and inflation hitting the economy, this simply makes it all the more important to have a better plan than just having cash in a bank account.
Stacks of people were suggesting buying gold as an inflation hedge a year ago and they have ended up with an awful lot of egg on their faces as prices plummeted.
Source: kitco
The trouble with gold is that it costs money to insure and store and never pays you an income. Yet if prices collapsed yet further it might represent a decent speculative long-term bet at those even lower prices. Respected fund managers have suggested that holding 2% of a portfolio in gold can be useful should prices jump. But would I suggest building a portfolio around gold? Erm...no.