| | | |
| --- | --- | --- |
| | | |
| | | To steady growth and inflation |
| | | Falling profits and confidence |
| | | |
| | Falling overseas reserves | Funds passed between Central Banks |
| | | Debt expensive and harder to source |
| | | |
| | | |
| | | Increasing profits and confidence |
| | | |
| | | Funds passed between Central Banks |
| | | Debt cheaper and easier to source |
| | | |
It's funny how some things in life change and others stay the same. If you go to London these days you will be given a copy of the Evening Standard for free. In a bid to compete with other free newspapers, the Standard had to become a freebie too.
The economic clock was first printed in the newspaper in 1937 and is still fairly relevant today.
The clock is designed to show how economies move in cycles.
From December 2001 when the cash rate as set by the Reserve Bank was just 4.25% through to March 2008, Australians endured a period of rising interest rates up to a peak of 7.25%.
Property and share markets had grown very strongly and inflation was often a worry.
Then in 2008 the tide turned as the financial crisis began to take effect.
Corporate profits fell and consumer confidence was shattered. Stock markets plummeted.
The economic clock shows that in such an environment (at 3 o'clock) commodity prices are likely to get hammered as demand dries up.
Did this happen? Yes. And how! Note the desperate performance of the copper spot through 2008, nearly hitting $1.00 USD/lb. At those kind of levels many projects become unviable and are mothballed.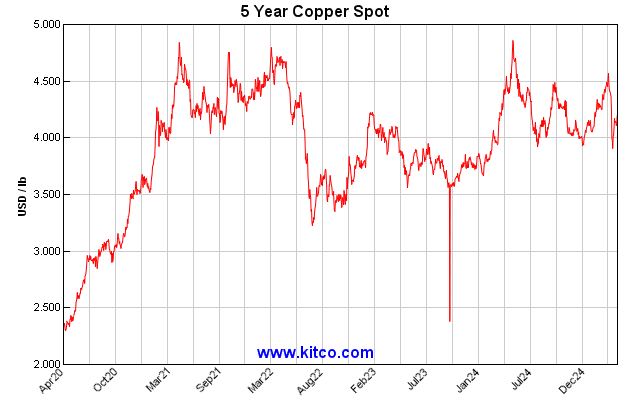 You might recall how easy it was to source a mortgage in 2007. No deposit needed!
As confidence fell funds became much tighter and harder to source, which naturally cooled Australia's property markets.
But then interest rates were dropped to just 3.00% in April 2009 which stimulated the economy…and house prices jumped.
Economies do move in cycles and although it took some time confidence slowly began to return and share prices rose again.
Commodity prices have recovered too, and slowly but surely debt is becoming easier to source again.
Who knows it may not be too long until 100% mortgages are all the rage again.
Although we should have learned our lessons about the dangers of dishing out too much debt, humans tend to be fairly poor at learning from past mistakes. We tend to forget incredibly quickly.
Interest rates have been again dropped to just 3.00%. Property prices in some markets have begun to creep up and share prices are flying.
The iron ore spot price has staged a remarkable recovery after plumbing the depth of below $90/tonne.
The US debt crisis will cause some concern in the short term but most commentators think that 2013 is likely to be a good year for investors…as indeed is suggested by the economic clock.
Stock markets look likely to continue their fine run over the course of the year.
The next big economic news will be the CPI (inflation) data this week. If the underlying print comes in at 0.6% for the quarter or lower then this will leave the RBA more room to drop rates yet again to 2.75%.
What the RBA's chart below shows is that some property markets may have topped out for now. The booming price growth in Melbourne, for example, may be followed by a prolonged period of flat or falling prices.
The immediate outlook for cities such as Sydney, Brisbane and particularly Perth seem to somewhat brighter.
In these big capital cities affordability can sometimes be an issue, and for this reason apartments have been outperforming houses in many of our markets over the last half decade.